Introduction
As we have discussed in previous article about M3U. M3U is a extension of file, containing the playlist of audio and video represents online streaming for them. A VLC player we mostly use to convert and play these files.
So now in this article we will discuss about M3U8.
What Is M3U8
Unicode version of M3U is called the M3U8.  Because M3U8 uses the UTF-8 encoded characters. UTF-8 is known as Variable Width Character Encoding. M3U8 files are basic of the HLS format. HLS format is known as Hyper Text Transfer Protocol Live Streaming. HLS format was developed by the Apple for their iOS devices.
So M3U8 is the playlist file. Which contains the audio video reference links.  This file describe relative path or absolute path. On these paths there can be media files and media folders too. So it defines the location of media folders and media files to play. These location of media files and media folders can be your Hard Disk , Pen Drive and online storage too.
 So for one M3U8 file there may be several links at several locations. If you want to search all of these links spread at different locations then it makes hard for us to do so. To avoid this you  can use a tool known as M3UExportTool. This is applicable for both extension of file M3U and M3U8.
M3U8 File Open
If you want to open M3U8 file then we would like to remind you that it is just a playlist text file. If you want to edit in this file then you can use various text editors available in the market. A Notepad Text Editor is one of them.
Apple iTunes , Windows Media Player and VLC Media Player is used to open M3U8 extension file. A VLC Media Player can be used as a converter for M3U8 extension files as well as M3U files. So by using VLC Media Player you can convert a M3U8 file into various extensions like XSPF and M3U.
You need to follow two simple steps in VLC Media Player to convert you file,
(1) Go To Media Information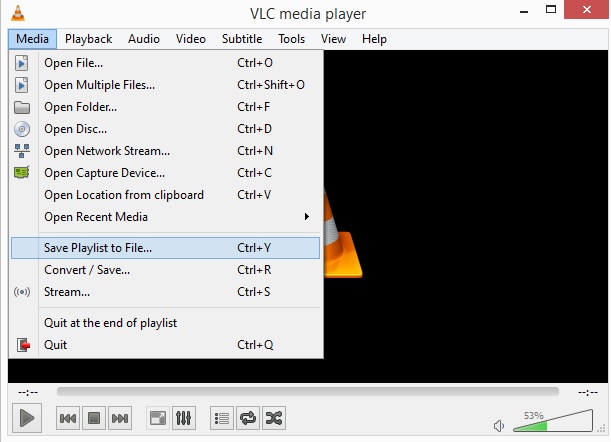 (2)  Save playlist To File…
M3U8 Players
(1) Apple iTunes
(2) VLC Media Player
(3) Mediamonkey
(4) AIMP3
Conclusion
M3U8 is a extension of file. It is playlist file of audio and video which have URLs indication for various locations of Media Files and Media Folders. Whereas M3U is a also extension of file which also contains playlist of audio and video file with referencing URLs.
The difference between M3U file and M3U8 file is that M3U8 file is UTF-8 Character Encoding of M3U file. A VLC Media Player is used to convert and play the M3U and M3U8 extension files.
reference : wikipedia