Introduction
Arris D5 UEQ where UEQ stands for Universal Edge QAM. Arris D5 UEQ is known for its better RF performance.  It is used for digital broadcast , VOD and SDV.
SDV stands for Switched Digital Video. It uses RPC Or RTSC  protocols to perform SDV. Arris D5 UEQ supports DOCSIS 2.0 / 3.0 in down streaming of packets.It provides the feature of bulk configuration and operational management tool. It supports linear broadcast digital programming.
Arris D5 QAM provides redundancy feature for Power supply , WAN , Fan , Transport Stream and GbE.
Thus in this article we will discuss about how to identify that arris D5 qam power supply have failed , how to troubleshoot with this power supply and what to do to avoid this kind of problem.
Arris D5 QAM Power Supply Troubleshooting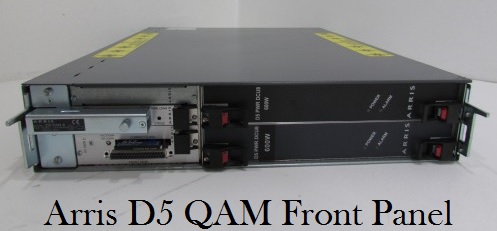 If we talk about Arris D5 QAM Power Supply Troubleshooting then there are two power supply installed in arris D5 QAM as primary and secondary. Thus second one power supply works as backup or redundant power supply.
You can check the status of power supply by opening the front panel of QAM there are two horizontally based power supply.  There are two LED indicating the status power supply as POWER LED and ALARM LED. So if there is problem with anyone of power supply then ALARM LED indicates it on that particular power supply. Also user interface shows the status of power supply by showing the alarm.
What If Your D5 QAM Is Not Power Starting
In this case you need to follow the steps
(1) first check the power socked as well as power code of the QAM.
(2) If power code and power sockets are ok then you need to go to back panel of QAM and pull out the FUSE of both power supply and check it by using the multi meter. This is 8 Ampere fuse. If fuse are not ok then replace it and then check it.
(3) If both fuse are ok then open the front panel of QAM and check the power supply.
(4) If there is no any light on these power supplies then pull out power supplies. Because both power supplies have sorted.
(5) Now we need to repair these power supplies.
Why Arris D5 QAM Power Supply Gets Failure
There may be many reasons for the failure of power supply like,
(1) Loose Power socket
(2) Loose Power Code.
(2) Earthing is not done properly in the Digital Headend Etc.
Working Of Arris D5 QAM Power Supply
As shown above in the figure this is basic working of Arris D5 QAM power supply. There is AC to DC convertor used to convert AC supply into DC supply it gets 240 AC. There are three blocks which are responsible for different power supply like 5 V , 3.3 V and 12 V DC. The output of these blocks are monitored by the Monitor as shown in figure.
There is one booster circuit which contains oscillator. This booster circuit boost the DC voltage to 400 V DC.
How To Repair Arris D5 QAM Power Supplies
There may be various kinds of problems in power supply but we will discuss here most commonly occurred problem.
There are two kinds of MOSFET installed in power supply. These are Q7 MOSFET and Q10 MOSFET. These two MOSFETs provides the safety to the forwarding socket. Generally these two MOSFET Q7 and Q10 gets sorted. So power supply do not work properly.
So by replacing these two MOSFETs Q10 and Q7 Arris D5 QAM power supply works normally.
Conclusion Of Arris D5 QAM Power Supply Troubleshooting
Arris D5 QAM have two power supply for redundancy . So if your QAM is not starting then first check the fuse of both power supply if its ok then there may be chances of shortage of both power supply. Its circuit is designed like that it will not damage the next part of circuit. To avoid these kinds of short circuit problem we need to do proper earthing in Digital Headend System which also gives safety to other Digital Headend Equipments. Thus this is all about Arris D5 QAM Power Supply Troubleshooting.
Repair My Arris D5 QAM Power Supply
If you get into the problem that your Arris D5 QAM Power Supply have short circuited or not working properly then you can contact us we will provide you solution for that. We will send this power supply to our repairing team he will repair it and send back to you.
Contact Us
Admin@headendinfo.com
+91 8239222444